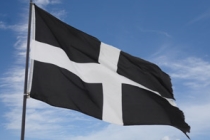 The following Public Opinion Poll is being conducted by the Cornish National Movement online and will be produced in leaflet form for distribution throughout Kernow.
* Are you Cornish?
* Do you think that too many people from upcountry and overseas are coming to live in Cornwall?
* Wales and Scotland now have their own devolved Assembly and Parliament, do you think Cornwall should be granted self-government with its own Assembly or Parliament?
* Do you oppose the integration of Cornish institutions and parliamentary constituencies with those of Devon and other parts of south-west England?
* Do you agree that Celtic Cornwall's links are with Wales and Brittany instead of England?
* Do you think Cornish children at Cornish schools should have the opportunity to learn the Cornish language?
* Do you think that local Cornish people should be given priority in employment and housing?
* Do you agree that Cornwall is a Celtic Nation like Wales, Scotland, Isle of Man, Ireland and Brittany?
Please answer YES or NO and reply to:
cnm1497@outlook.com
Cornish National Movement - www.cornishnationalmovement.blogspot.com